Mack Pexton
Information Systems – IT Specialist – Linux Sysadmin
I design, assemble, and maintain Computer Information Systems.
I assemble and configure Linux servers and open source software. I write my own software to fill in the blanks so systems are integrated and automated.
An ongoing project of mine is the AcmeBase Small Enterprise System. It is essentially a locally-hosted private cloud.
I have been in business over 3 decades. My office is in Bozeman, Montana.
What can I do for you?
I am interested in computer information: its storage, availability, flow, and its applications. A mission for people like me is to "preserve the integrity of computer information" and a big part of that mission is to ensure robust backups. There are many different kinds of backups.
I have backup scripts which have been in production use for many years. They automate the daily backups of servers. They simplify the off-site backups so anyone can maintain them. They clone running servers saving up-to-the-moment snapshots. And I have developed a system which provides users with a time machine backup of their own files.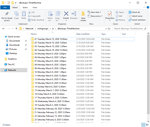 A final "backup" I try to have are meticulous notes on server software installations and changes to their configurations. They are invaluable and a big time saver if one has to rebuild a server from scratch to recover from malware. They are also most helpful when upgrading the server to new generation software.
Do you have websites, email, or DNS issues?
I have managed websites, email, and DNS settings for many years. I have also set up and managed the servers hosting the websites, email, and DNS software.
Do you have malware hiding in your servers?
I have had success routing out rogue programs on servers. As a software engineer for a hosting service, I oversaw the security of hundreds of websites operated by other webmasters.
Do you need help managing your computers?
I have maintained fleets of PCs, Macs, servers, network equipment, wi-fi, and firewalls for decades.
Do you need to purchase servers, networks, or PCs?
I have specified, purchased, installed, and maintained computing equipment throughout their entire life-cycles.
Do you have a big software system needing management and support?
I managed the Montana State University Library catalog software.
Moving to the cloud?
I can help move your information all around. I've done a lot of it.
Are you a growing company?
I was with a soft-goods manufacturer as they grew 10 fold within a decade. I managed all their computers, servers, and networks.
License
All my programs are free and open source software as they are built upon other free and open source software. All programs are licensed under the Apache License, the MIT License, or where marked, the GNU GPL3.
Whether my scripts are published or not, they are intended to be "left behind" on your systems to be used as needed. I also make upgraded versions of many programs available through git or svn repositories.